Access. Everywhere. For Everyone.
Thyssen Homeglide Straight
Thyssen Homeglide Straight
The HomeGlide stairlift range delivers a solution for all straight staircase requirements and budgets. The HomeGlide and HomeGlide Extra are fitted onto your staircase and not your wall. This allows the lift to be installed quickly, easily and with minimal disruption to your home.
It is designed to glide effortlessly along an aluminium track, providing an attractive, elegant and discreet addition to your home. Built using the latest technology, the HomeGlide stairlift range can be fitted to almost all straight staircases as narrow as 740 mm.
It's all about you
The thick and luxurious padding ensures a firm and comfortable seat. The sisal colour of the upholstery is a neutral tone which will fit in every household. The upholstery is also fire retardant, liquid repellent and easy to clean. The HomeGlide is operated with an easy to use joystick which can also be removed to prevent unauthorised usage.
Compact and Discreet
The HomeGlide's design is simple, sturdy and above all satisfies your accessibility requirements. Remote control handsets allow the HomeGlide to park at either the top or bottom of the staircase, wherever
is the most convenient for you. When not in use the HomeGlide is folded away to only 380 mm on any landing, out of the way of any other staircase users.
Safety
Your safety is of paramount importance to us. The HomeGlide stairlift is certified to machine directive 2006/42/EG and BS EN 81-40. If the lift encounters an obstacle it will safely come to a stop as a result of special safety edges on the drive unit. The stairlift is battery operated, which means you can still use it during a power cut.
SPECIFICATIONS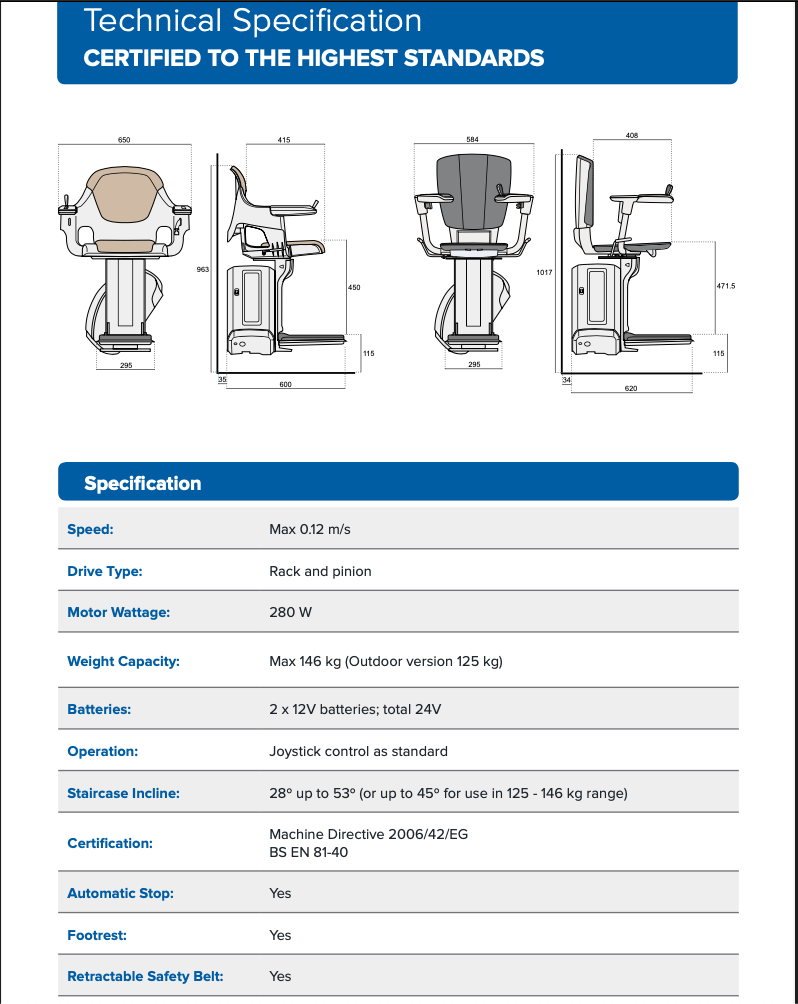 Brochure
Please complete our online form below and we will get straight back to you.
[fc id='4′][/fc]