Bespoke Infinity Curved Stairlift
The Infinity curved stair lift is manufactured by Bespoke Stairlifts in the UK
and can be installed in your Bristol home by the Access Able team.
The Infinity curved stairlift has been expertly designed to be robust and stylish
whilst being easy to use and maintain. It operates on a slim, twin rail that can be installed
on either side of the staircase, versatility that offers a variety of start and finish options.
It can be styled to your individual taste and home decor, with a choice of
five wipe-clean vinyl seat covers and four complimenting rail colours.
The Infinity comes with a swivel seat as standard, which is activated by a
simple to use lever on the side of the seat, giving users increased stability when transferring, a powered swivel option is also available.
The Infinity is operated by a control joystick located on the arm rest,
by simply applying constant directional pressure with the fingers, wrist
or hand, ideal for those with limited dexterity.
The Infinity can also be controlled with a wireless remote control
which is especially helpful if the stairlift is to be used by more than one person or to be controlled by a carer.
The Bespoke Infinity curved stairlift is slimline and practical,
even when not in use; simply fold away the arms, seat pad and footrest
to create extra room when idle, it even has a linked footrest lever
so there is no bending required when folding it up.
This curved chairlift is suitable for a variety of internal and external bends, including single and double bends, landings and swan neck staircases as well as parking wrap-arounds, drop noses and bottom overruns. The Bespoke Infinity is a stairlift that is designed and made to fit your staircase specifically, its adaptability makes it suitable for most staircases!
The Infinity curved stairlift has great safety features such as multi-point sensors that stop the stairlift if any unexpected items are in the way, as well as an arm-rest safety stop, audible diagnostics, removable key switch and an optional retractable seat belt. It also boasts battery-powered operation so in the event of a power-cut your Infinity stair lift will continue to run.
ERROR CODES
FEATURES
TECHNICAL & TROUBLESHOOTING
ERROR CODES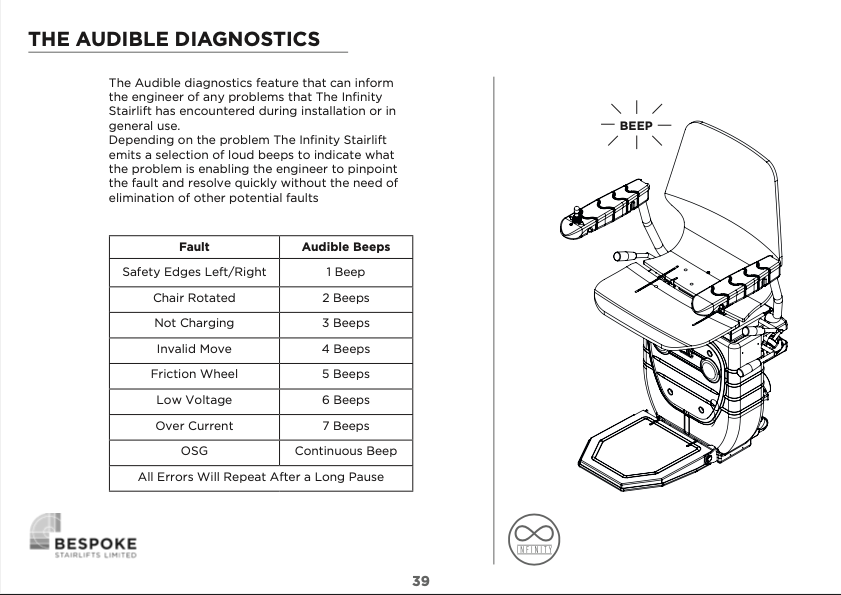 FEATURES
TECHNICAL & TROUBLESHOOTING
Please complete our online form below and we will get straight back to you.
[fc id='4′][/fc]